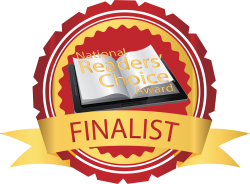 Good news! While I was on the road, I got the happy email that What Ales the Earl is a finalist in the Historical category of OKRWA's National Readers' Choice Awards. Isn't this badge spiffy? Winners will be announced at the Romance Writers of America's national conference in NYC this July. You can find the complete list of finalists in all categories here.
The Gaithersburg Book Festival is this Saturday, May 18. I'll be on a panel with Avon historical romance author Charis Michaels talking about . . . historical romance, of course. We'll be on from 2:15 to 3:05 at the Edgar Allan Poe Pavilion with a book signing to follow. Bonus! It looks like the weather may cooperate this year. Here's a link to my listing. If you poke around the website, you can find the schedule and all sorts of useful info. If you live in the Washington DC area, I hope to see you there.
I'm happy to report that I just sent back my page proofs for The Merry Viscount. Whew! It was a bit of a forced march due to my travels, but I think I caught most of the typos–until the book is out and all the ones I missed step forward to taunt me. After a while, the eyes see what the brain thinks is there. Anyway, once the Gaithersburg Book Festival is over, I plan to tidy up my copy of the manuscript and post a chapter. If you'd like to be notified when that happens, you might want to sign up for my occasional newsletter here.
In non-writing news, I still need to buy a Mother of the Groom dress–and the wedding is the end of June–as in, next month!! (Cue panicked squeaks.) And I have freakish feet that the Shoe Gods choose not to waste their time on, so before I dress shop, I need to dig through my closet to see what suitable shoes might lurk there. At least I hope to make this dress do double duty and clothe me for the RITAs. Wish me luck!