If you follow me on Instagram or my Facebook page, you've seen some of my pictures from the Gaithersburg Book Festival. I had a lot of fun, but when my panel was over, I was brain dead. At the book signing, I couldn't remember the name of someone I've know for over a decade! Above is a picture of my panel, taken by one of the organizers. I'm the one in green, talking with my hands. Avon author Charis Michaels is next to me, and on the end is our excellent moderator, Rebecca Speas.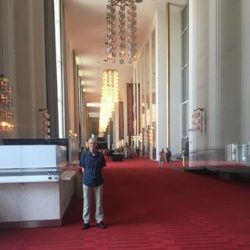 The day after the book festival, Mr. M and I ventured to the Kennedy Center to see the opera Tosca. I asked Mr. M to pose in the Grand Foyer to give you an idea of the scale of the building–he's 6'3″. Mr. M is the real culture vulture of the two of us, but I enjoyed the performance. I'm still not an opera fan, but I do like it better when there's a stage and actors rather than just listening to it at home.
Now that my page proofs are in, I'll be posting a chapter of The Merry Viscount on my web site. If you'd like to get a link to it in your inbox as well, now would be a good time to subscribe to my newsletter here. And as for the great Mother of the Groom dress hunt? I may have found something–except it sheds glitter everywhere!