Can you believe it's September already? And you know what that means: Cheers to the Duke will be out soon! I'm happy to say the reviewers have been kind. Publishers Weekly called it "fast-paced," and said Jo and Edward's romance was "sensuous and enhanced by witty dialogue." They think you will appreciate the "strong heroine and affable hero." I hope they're right! And Diana Tixier Herald at Booklist said: "Loving friendships and a strong sense of sisterhood among socially caring women make for a fun and spicy read that will appeal to readers of Eloisa James and Kate Bateman."
Speaking of Kate Bateman, she—and Eloisa—have books out this month, too! To celebrate, Kate organized the Scandal in September giveaway. Look at this amazing haul one lucky reader could win—Cheers to the Duke plus 14 other signed books AND a Kindle Paperwhite!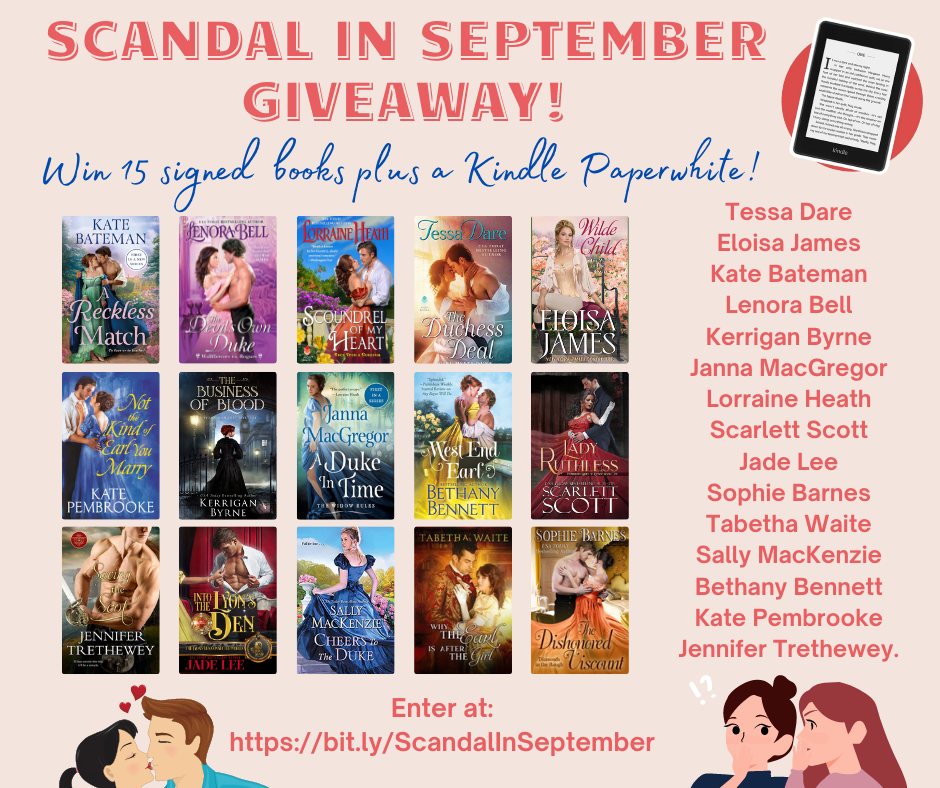 To enter, click on the contest link
.
I confess to being rather clueless about all this, which is why I jumped on the offer when Kate emailed me. Apparently, you'll get one entry for following an author on their chosen social media or by signing up for their newsletter. Multiple entries are allowed—you can follow all fifteen authors for more chances to win! The contest ends September 26th when one random winner will be chosen. And bonus—the contest is open worldwide!
And if you're not into contests? No worries. Now you have a lovely list of new historical romances to look forward to!